Regular price
Sale price
$44.95 USD
Unit price
per
Sale
Sold out
Orders $100+ Ship FREE! Discounts automatically applied at checkout.
Have a question or need help ordering? Call 913-800-4822 or email support@bluebiology.com for assistance. Join our email list to be notified about seasonal sales and discounts.
BlueBiotics: Ultimate Care© is an allergen-free, preservative-free probiotic supplement packed with 11 robust, potent strains to balance and restore your gut health.
✓

61 Billion Colony-Forming Units (CFU's) per serving

✓

11 Potent Probiotic Strains

✓

Formulated by health experts using cutting-edge research

✓

Soy-Free, Dairy-Free, Gluten-Free, Preservative-Free, Non-GMO

✓

30 Full Tract™ Enteric Capsules in Each Bottle

✓

 No Refrigeration Required for Storage

✓

 Manufactured with pride in the United States of America
Benefits*
Supplement Facts
Serving Size: 1 Capsule

Servings per Container: 30

Amount Per Serving
%Daily Value
Proprietary Blend (61 Billion CFU**)
488 mg
†
Lactobacillus Acidophilus, Saccharomyces Boulardii, Bacillus Coagulans, Lactobacillus Bulgaricus, Bifidobacterium Longum, Lactobacillus rhamnosus, Lactobacillus Salivarius, Lactobacillus Casei, Lactobacillus plantarum, Bifidobacterium Lactis, Bifidobacterium Breve
Other Ingredients: Rice Flour, Vegetable Cellulose & Gellan Gum
† Daily Value Not Established
**CFU at time of manufacture
Instructions
Take one capsule daily with a full glass of water, with or without food. Use with BlueBiology Prebiotic Powder for best results. 
Share
View full details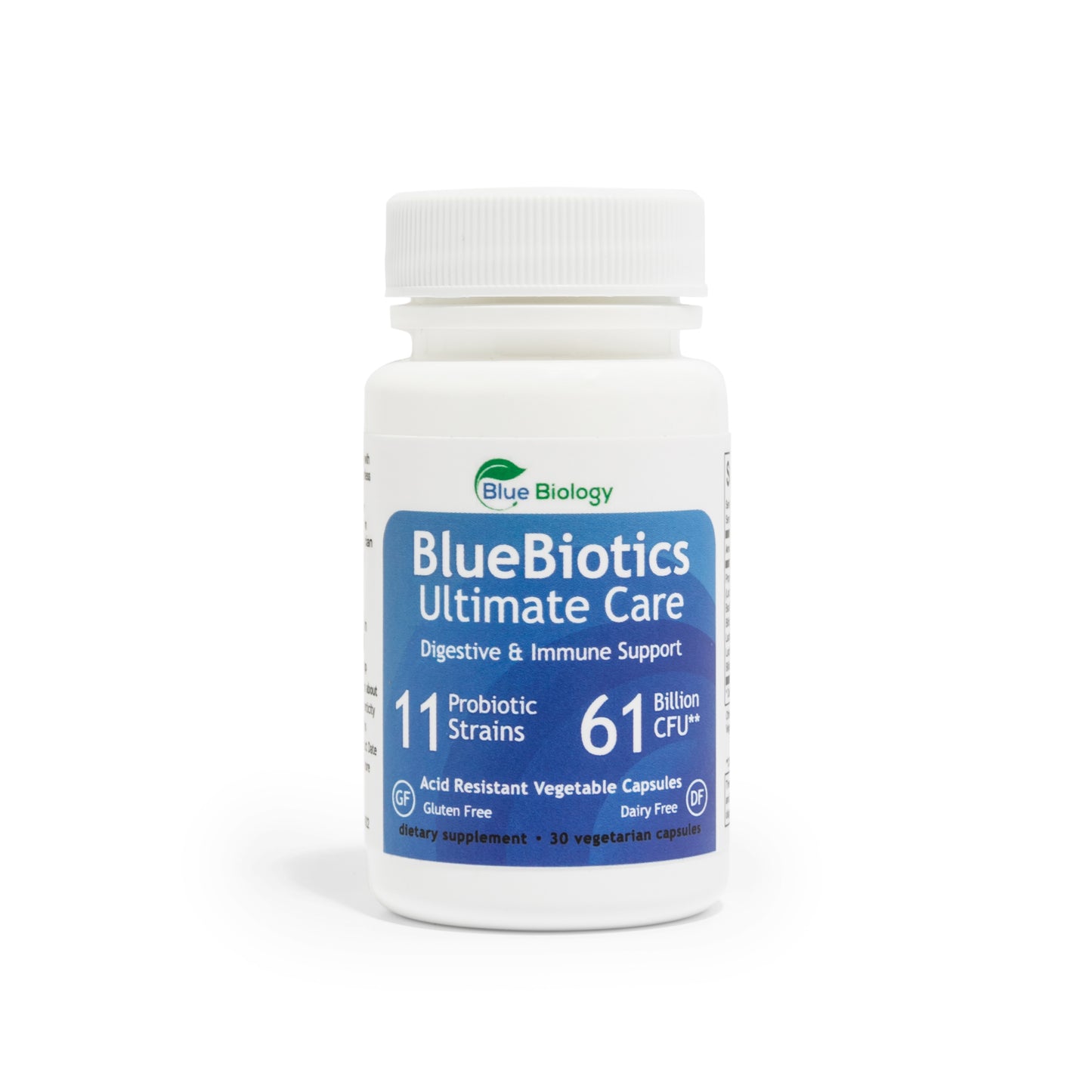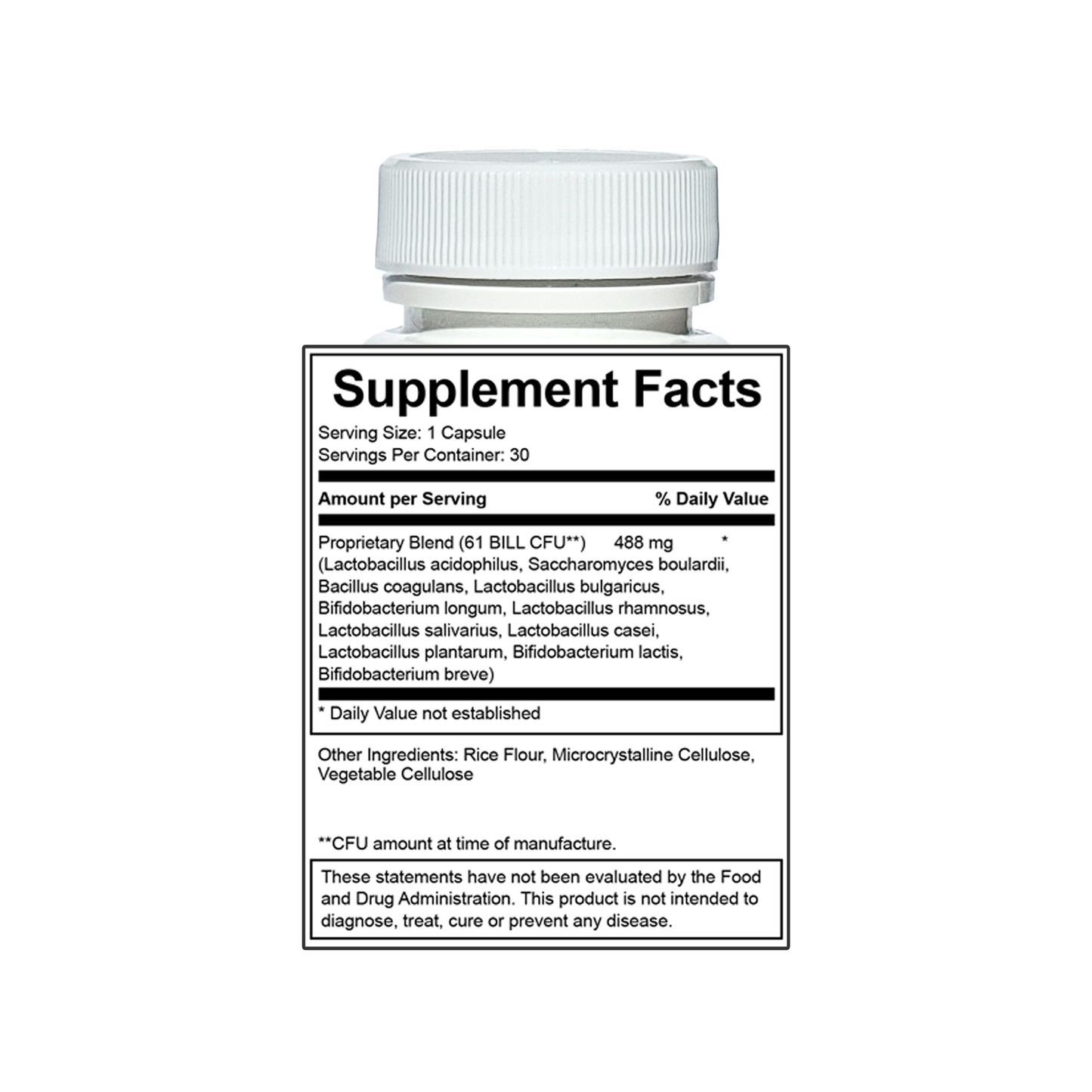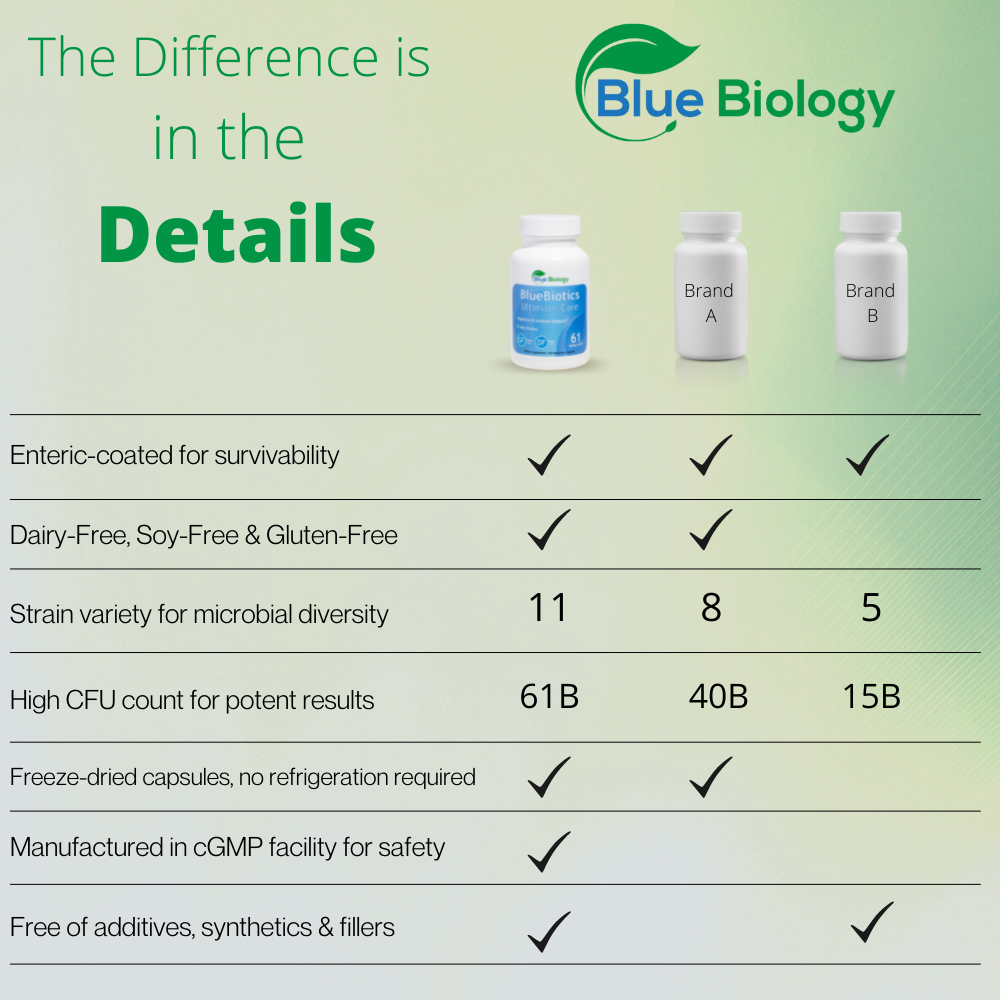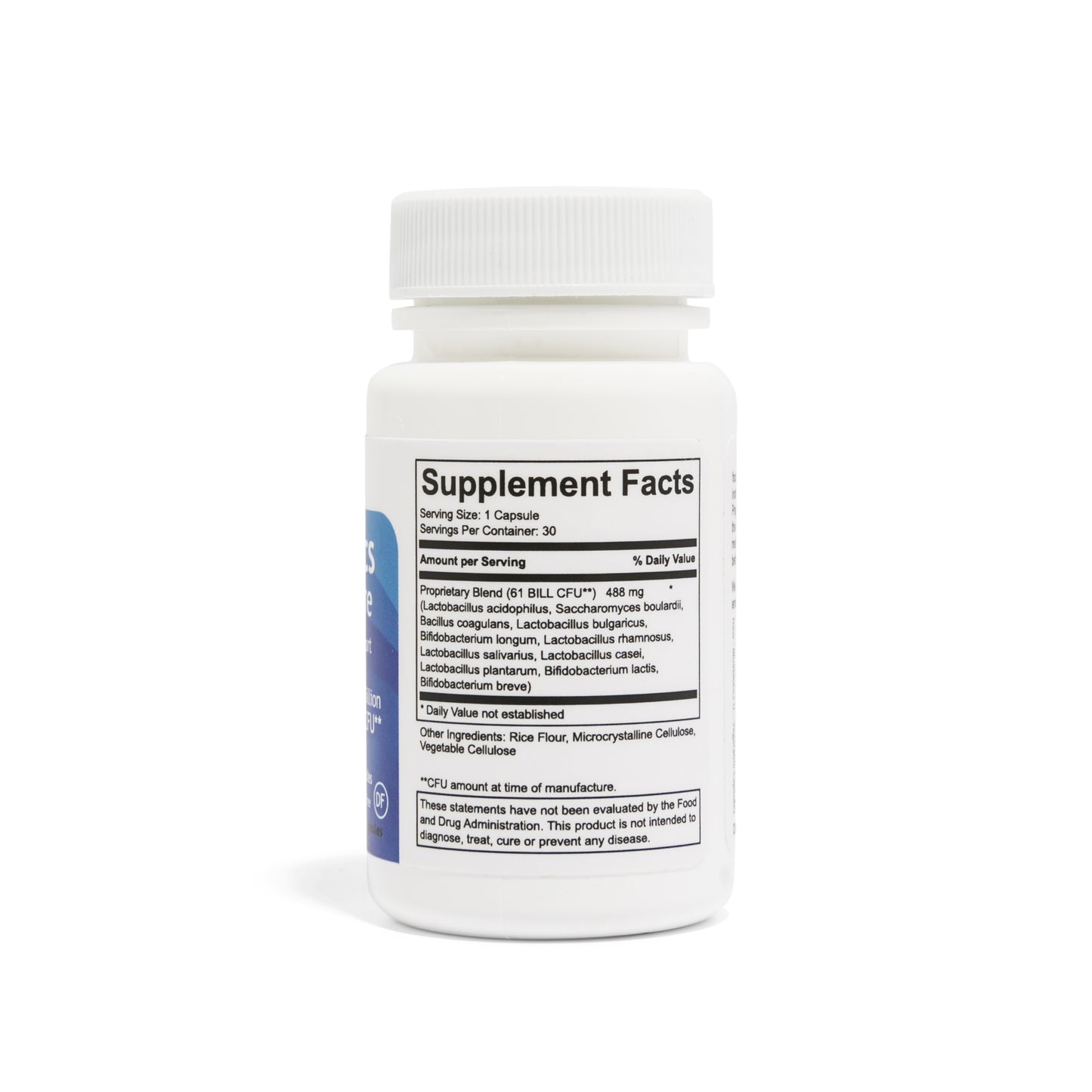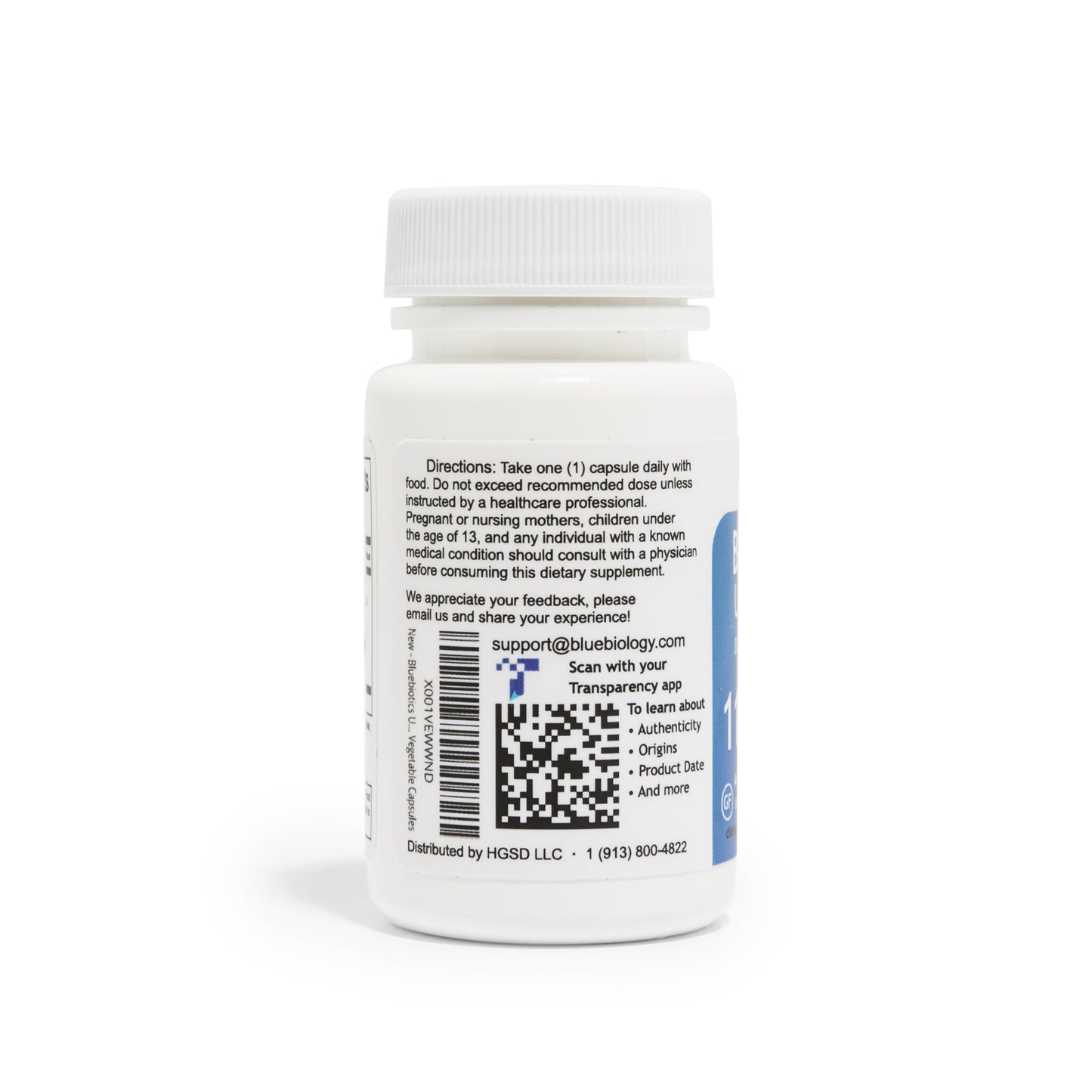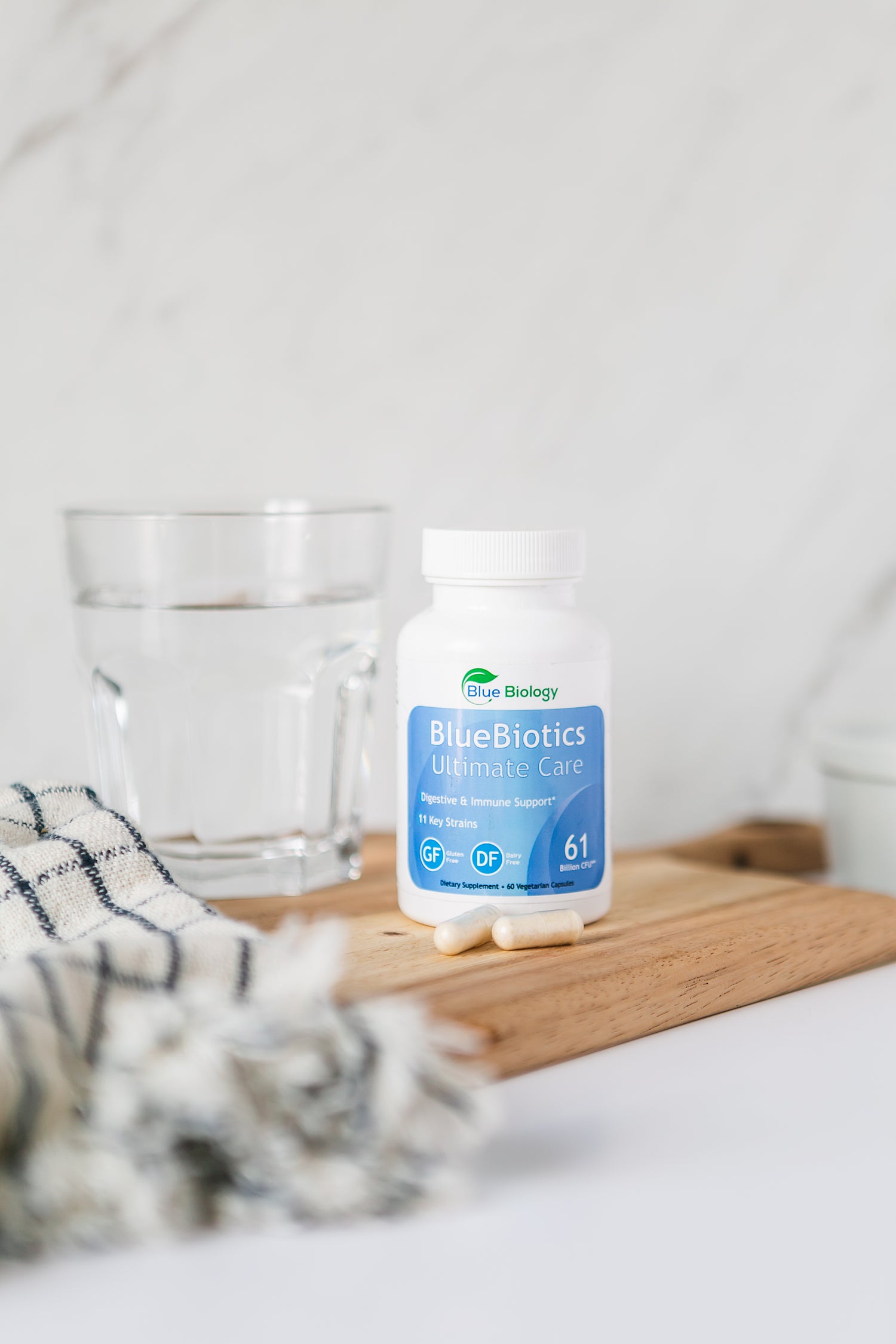 Eases upset Stomach & Bloating
BlueBiology's Ultimate Care Probiotic sets itself apart with a combination of high potency and pure ingredients. With 61 billion colony-forming units and 11 potent probiotic strains, it is designed to enhance gut health and overall wellness. The formula is free of unnecessary fillers and includes 100% natural active ingredients, along with a prebiotic mix. Furthermore, the prebiotic rice flour ensures the survival of probiotics as they reach the digestive tract. BlueBiology's Ultimate Care Probiotic is also safe for people with common health concerns such as gluten, dairy, and soy. To ensure that the probiotics reach the lower intestine, where they can be most effective, each capsule is coated with an acid-resistant layer that prevents dissolution as it passes through the stomach.
Complete Digestion Support

The nutrients that your body needs are extracted from the food you consume by your digestive system. If you fail to take care of it, it could result in difficulties in absorbing essential nutrients required by your body. By supporting the health of the digestive system, probiotic supplements can help to ensure that the body is able to extract the necessary nutrients from food and maintain optimal health. BlueBiotics Ultimate Care probiotic supplement could potentially enhance your digestive health by mitigating diarrhea and constipation symptoms.

Boost Your Immune System

Approximately 70 percent of your immune system is located in your gut. An unhealthy level of microorganisms in the gut can result in an imbalance. Probiotics are capable of restoring balance. With the proper balance of beneficial microorganisms in the gut, the body's immune system is better equipped to maintain good health. So, it is essential to maintain a healthy gut to boost your immune system and stay healthy.

Suitable for Women & Men

Probiotics have been recognized to assist in the maintenance of good health in a variety of methods. They may contribute to enhancing digestive health and strengthening the immune system. BlueBiotics Ultimate Care is a probiotic designed to operate in harmony with your body's unique requirements.
What are Probiotics and how do they work?
Probiotics are gut bacteria found naturally within your body's gut flora, but also can be found in supplements formulated with freeze-dried microorganisms, often called "good" or "beneficial" bacteria. When taken regularly, probiotics help re-balance your gut bacteria or flora. They fight the "bad" or "harmful" bacteria that can overcrowd a person's digestive system from things such as antibiotics, illness, travel, stress or inflammatory foods or alcohol. Healthy gut flora benefits the whole body. Probiotics have two main goals: 
 Increase the quality and quantity of the good bacteria in the gut. This good bacteria works hard to digest foods, increase nutrient absorption and regulate the functions in the body. Did you know that 70% of the immune system lies within the gut and the gut also plays a major role in regulating sleep?
Decrease bad bacteria within the gut.  Encouraging the growth of good bacteria will help minimize the presence of this bad bacteria. An overgrowth of bad bacteria within the gut can contribute to:
** Stomach disturbances such as gas, constipation, bloating, diarrhea, heartburn and even food intolerances.
** Unintentional weight fluctuations: weight loss may be caused by small intestinal bacterial overgrowth. Weight gain may be caused by bad bacteria interfering with nutrient absorption which leads to urges to overeat.
When can I expect to see results?
Consistency and a healthy lifestyle are key factors to seeing the best results. An imbalance of bacteria in the gut is often caused by years of stress and poor diet. Unfortunately, this cannot be reversed overnight. Here's what to expect*:
Within Days- Within the first few days of taking probiotics, you can rest assured knowing that BlueBiotics will reach your gut and intestinal tract alive, well and ready to get to work thanks to our enteric coated capsules. 
Within the first 2-3 weeks- This is the time period where most people report improvements with stomach discomforts such as gas, constipation, bloating, diarrhea and heartburn.
Within the first 2-3 months- By this time and beyond, probiotics have had time to work and transform the gut flora, regulating homeostasis within the body. This is the time most people report long-term benefits after taking a probiotic such as decreased symptoms with food intolerances, increased energy, regular bowel movements, improved sleep and decreased weight fluctuations.
*Individual results and the timeline of these results may vary from person to person.
Frequently Asked Questions
What Ingredients are in BlueBiotics: Ultimate Care?

Our potent 11 strain, 61 Billion CFU** Proprietary Blend contains: 

✓ Lactobacillus Acidophilus

✓ Saccharomyces Boulardii

✓ Bacillus Coagulans

✓ Lactobacillus Bulgaricus  

✓ Bifidobacterium Longum

✓ Lactobacillus rhamnosus

✓ Lactobacillus Salivarius 

✓ Lactobacillus Casei

✓ Lactobacillus plantarum

✓ Bifidobacterium Lactis

✓ Bifidobacterium Breve

Other Ingredients include: Rice Flour, Vegetable Cellulose & Gellan Gum
What are Probiotics?

Probiotics are supplements formulated with freeze dried microorganisms- often called "good" or "beneficial" bacteria. They are taken to combat the "bad" or "harmful" bacteria that can overcrowd a person's digestive system from things such as antibiotics, travel, stress or inflammatory foods or alcohol.
How should I store BlueBiotics: Ultimate Care?

Store BlueBiotics in a cool, dry, place. Avoid excessive heat (above 78 degrees). We recommend you refrigerate the product to prolong the life of the cultures by up to a year.
Is it normal to experience bloating when I first start taking BlueBiotics: Ultimate Care?

Although BlueBiotics: Ultimate Care is formulated to lessen bloating, yes, some people report gas and/or bloating when they first start taking probiotics.

Gas is a by-product of rapidly changing gut microbiota (gut bacteria). This temporary side-effect should clear up within the first week.