Regular price
Sale price
$24.95 USD
Unit price
per
Sale
Sold out
BlueBiology Immune Essentials is a once-daily immune and energy supplement designed to fight harmful pathogens, 'brain-fog', and fatigue. Probiotics, vitamins, and minerals work together to provide multiple layers of immune defense to reduce the severity and duration of common causes of sick days.
✓

 

Formulated by health experts using cutting-edge research
✓

 

Soy-Free, Dairy-Free, Gluten-Free, Preservative-Free, Non-GMO
✓

 Enteric-Coated in vegetarian capsules to ensure safe passage through the stomach acids

✓

 

Backed by our 90-Day, Hassle-Free, Money-Back Guarantee
Each of the 9 ingredients in BlueBiology Immune Essentials play integral role in supporting your immune system and combating the everyday forces which sap your energy. A weak immune system is often accompanied by fatigue - a sign that your body is directing your energy towards an invisible, internal struggle. The vitamins, probiotics, and flavanols in BlueBiology Immune Essentials have been shown to improve blood flow to the brain and heart, fight cell damage, and even to help lower blood pressure.
Not only do our Immune Essentials bring the fight to harmful bacteria, they play supporting roles and strengthen the potency of the other ingredients. Omega 3 is an immune-modulating nutrient as well as a prebiotic - a source of fuel for healthy bacteria. Lactobacillus casei increases the production of white blood cells while helping your body absorb vitamins and minerals, such as Zinc and Vitamin A, C, and D.
BlueBiology Immune Essentials Contain Powerful, All-Natural Nutrients that Many People Don't Get Enough of in their Regular Diets
Probiotics
Lactobacillus casei

 

increase the production of white blood cells while helping your body absorb vitamins and minerals, such as Zinc and Vitamin A, C, and D.

Pediococcus acidilactici

 is a probiotic strain unique to BlueBiology Immune Essentials and is not found in your average probiotic supplement because of its specialized function in boosting immune health. It is backed by over 10 years of research and plays a key role in fighting harmful pathogens and promotes the absorption of immune strengthening vitamins and minerals.
Lactobacillus rhamnosus

 

is an important probiotic which helps break down foods that contain sugar and dairy. It also helps prevent the survival of potentially harmful bacteria in the digestive tract.
Zinc stimulates the production of immune cells and reduces oxidative stress keeping the immune system robust and functional.
Vitamin A promotes reproductive health for both men and women, improves vision and eye health, assists with slowing the aging process & promotes healing of wounds and other skin issues.
Vitamin C is essential for the normal growth and repair of connective tissue, namely, bone, cartilage, blood vessels and skin.
Vitamin D, sometimes called the sunshine vitamin because it is naturally produced in your skin in response to sunlight, has several important functions including maintaining strong bones and teeth. Vitamin D deficiencies can cause serious health problems such as soft or fragile bones.
Omega-3 or fish oil may help your immune system reduce inflammation, improve your blood chemistry, promote healthy heart, and improve overall health.
Elderberry Extract is an all-natural tried and true immune boosting remedy. It is packed with antioxidants and vitamins that may boost your immune system by reducing inflammation, lowering stress, and helping protect your heart.
Supplement Facts
Serving Size: 1 Capsule

Servings per Container: 30

Amount Per Serving
%Daily Value
Vitamin A (as Retinyl Palmitate)
900 mcg
100%
Vitamin C (as Absorbic Acid)
90 mg
100%
Vitamin D (as Cholecalciferol)
20 mcg
100%
Zinc (as Zinc Citrate)
11 mg
100%
Omega 3 Powder 50%
350 mg
†
Lactobacillus rhamnosus
1 billion CFU
†
Lactobacillus casei
1 billion CFU
†
Pediococcus acidilactici
1 billion CFU
†
Elderberry Fruit Extract 4:1 (Sambucus nigra)
120 mg
†
Other Ingredients: Cellulose & Gellan Gum (Delayed Release Capsule)
† Daily Value Not Established
Percent Daily values based on 2,000 calorie diet
*Contains Fish
Instructions
Take one capsule daily with a full glass of water, with or without food for best results.
Share
View full details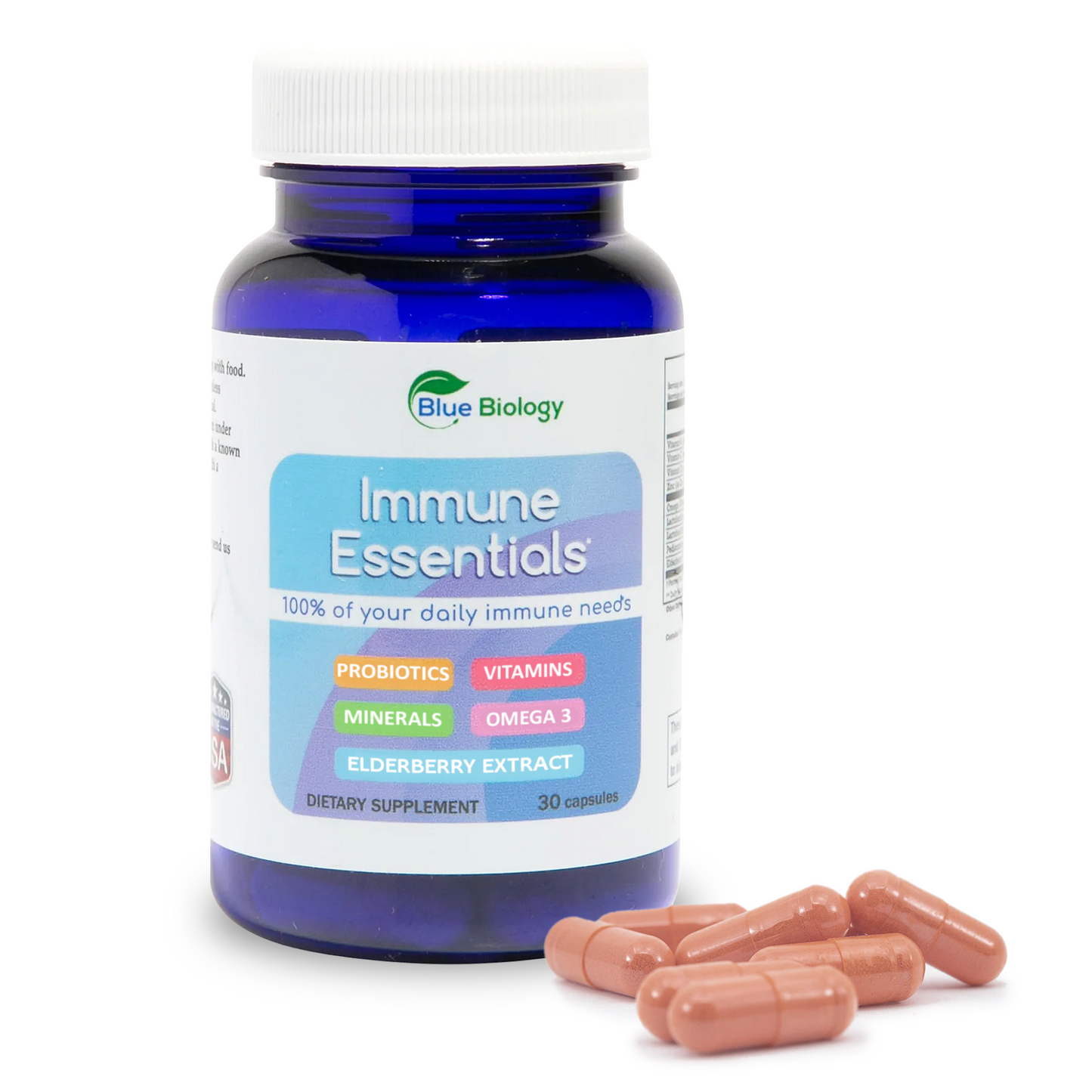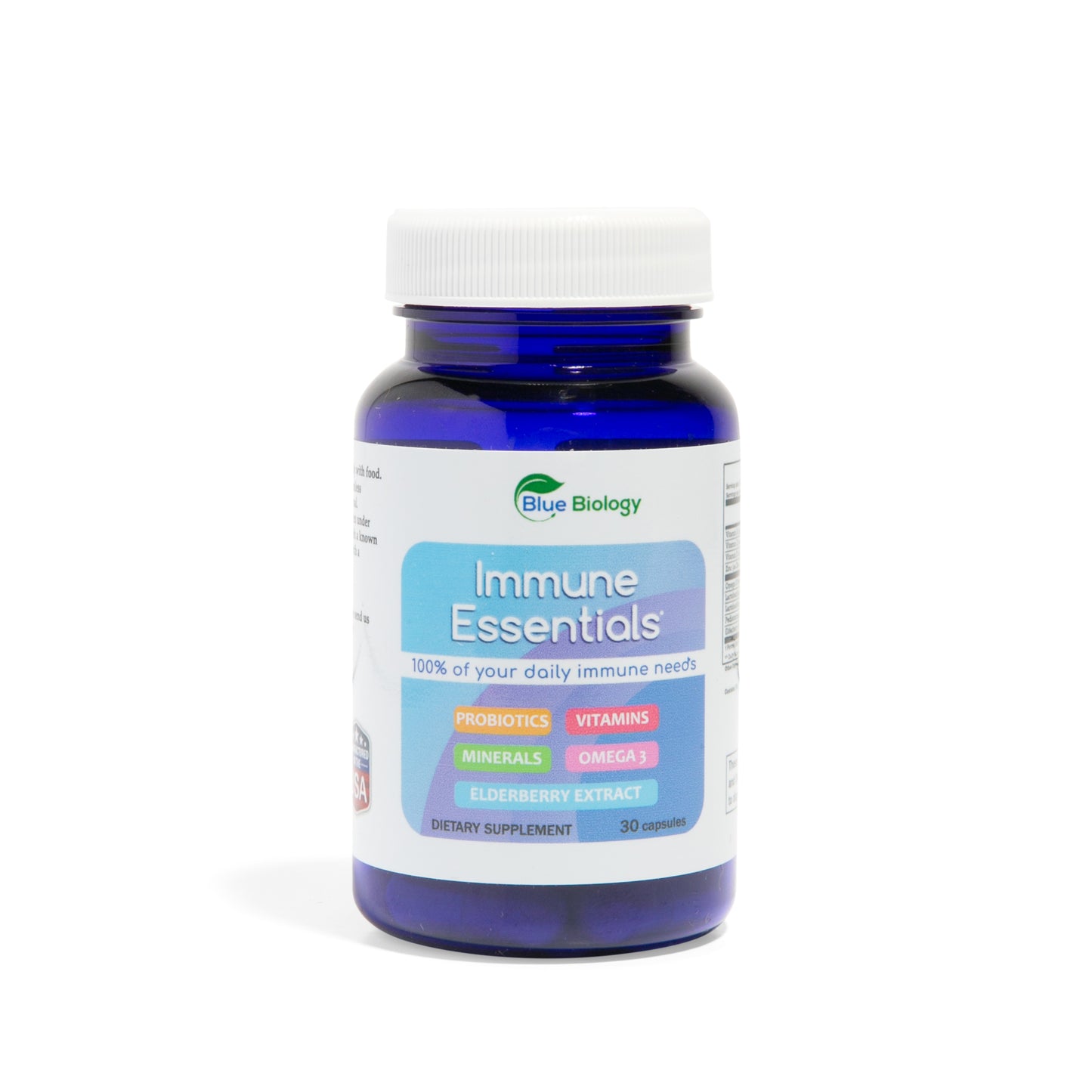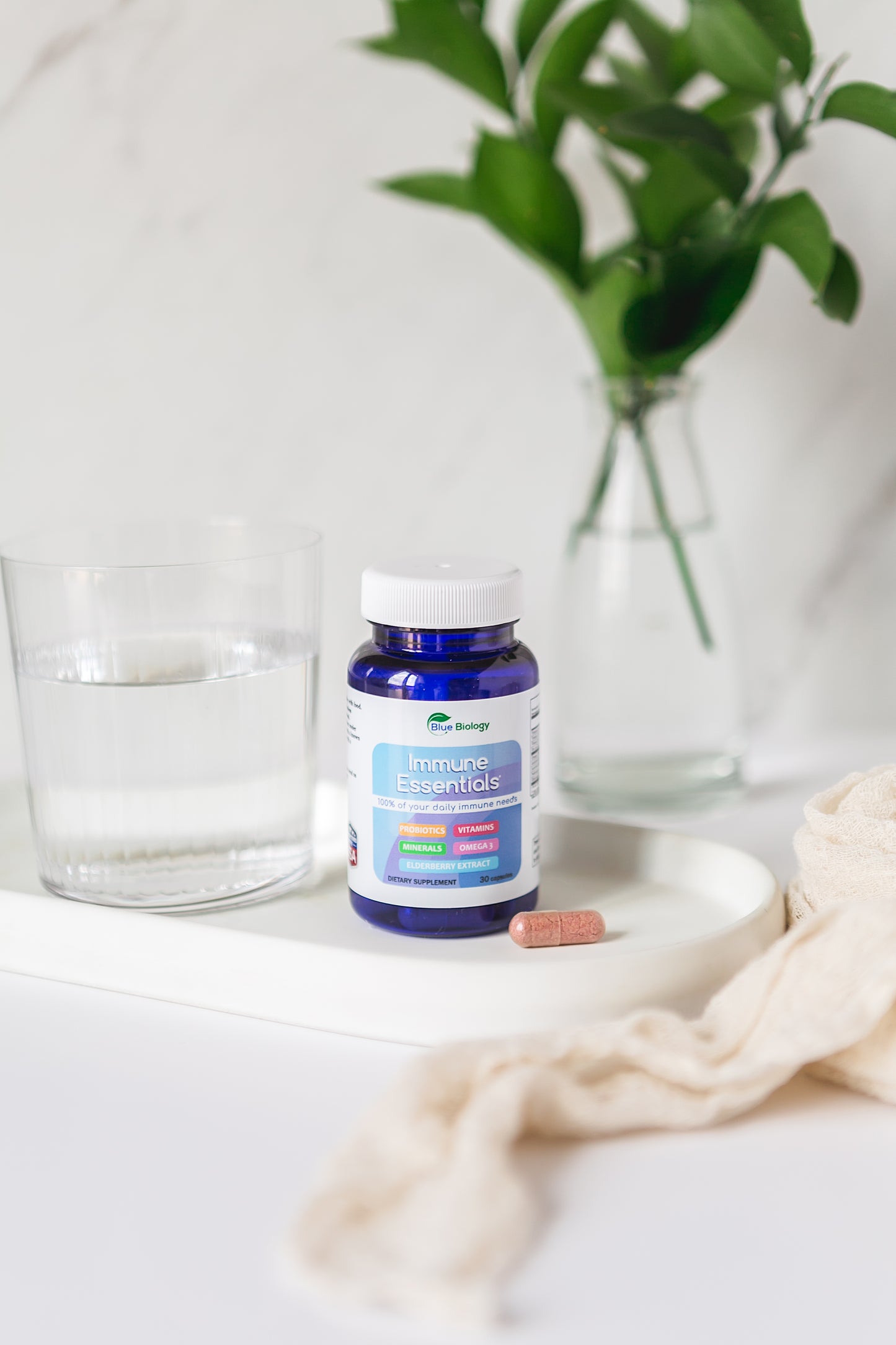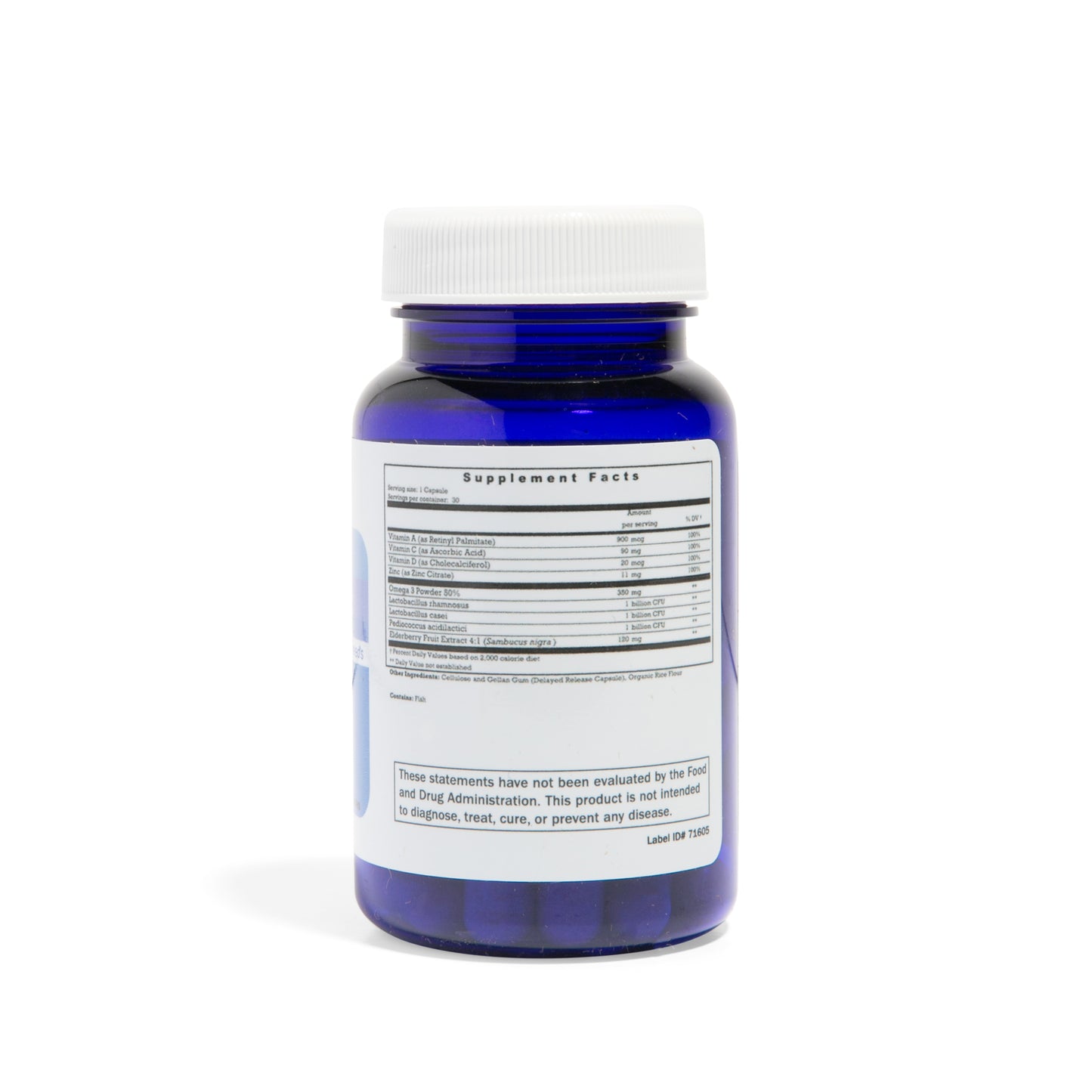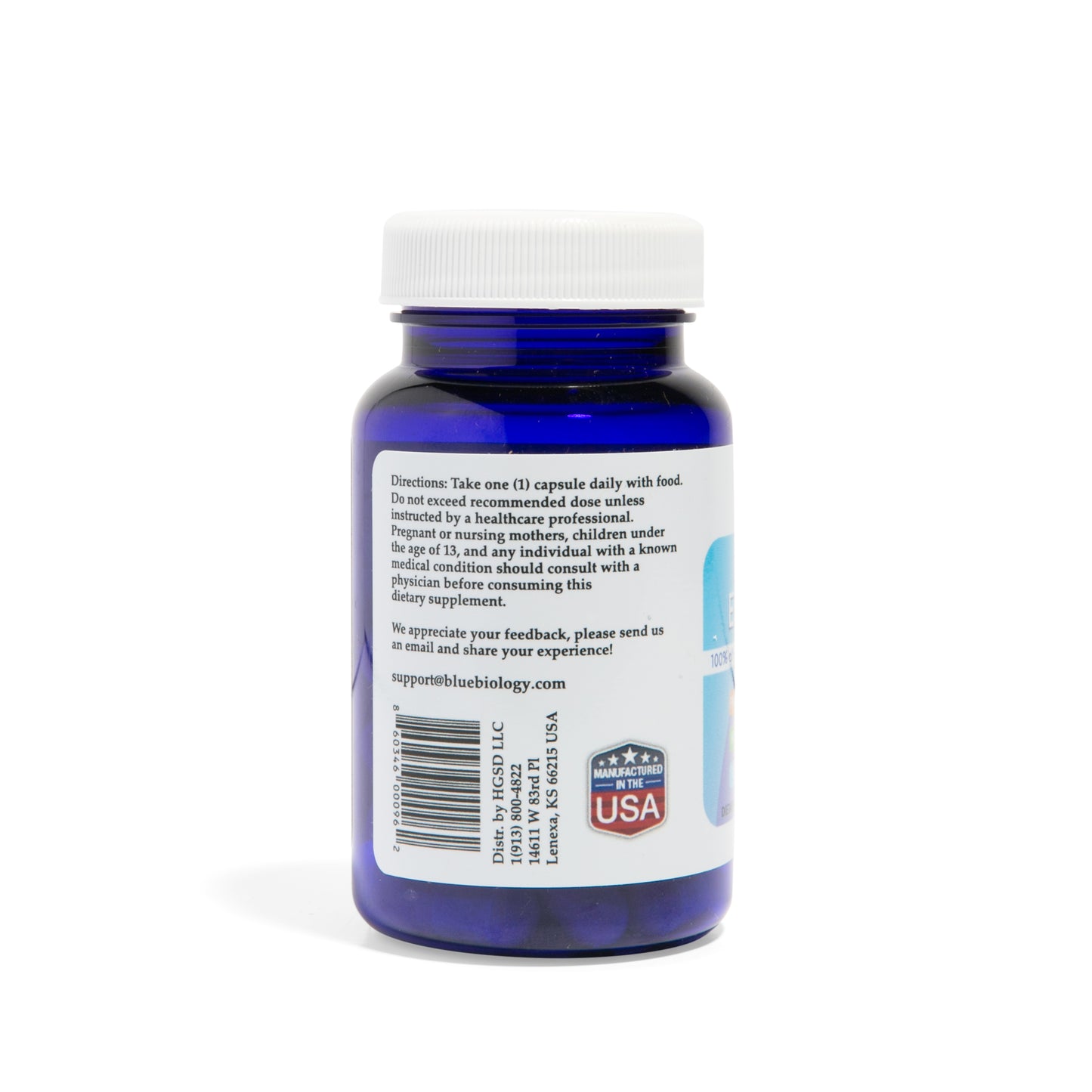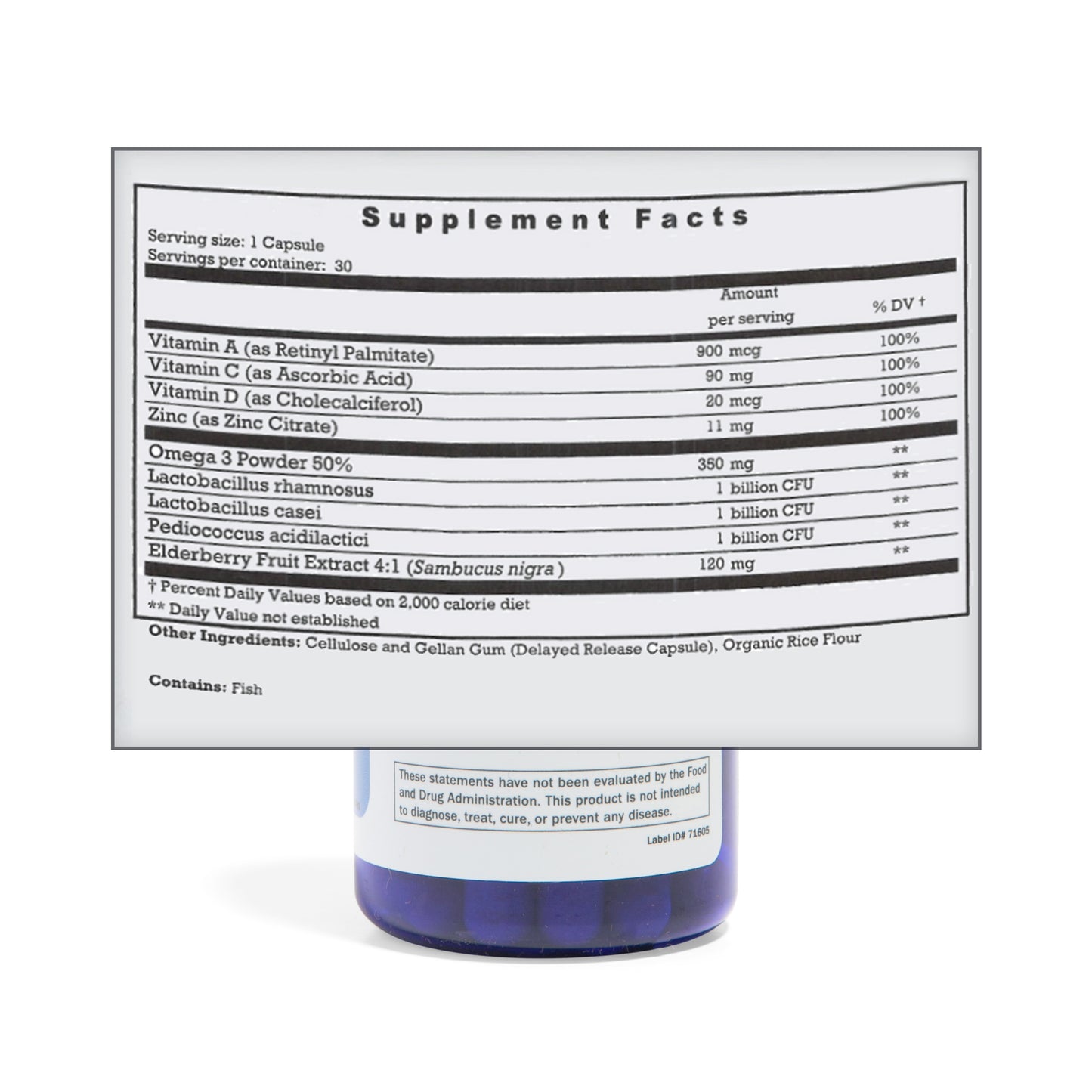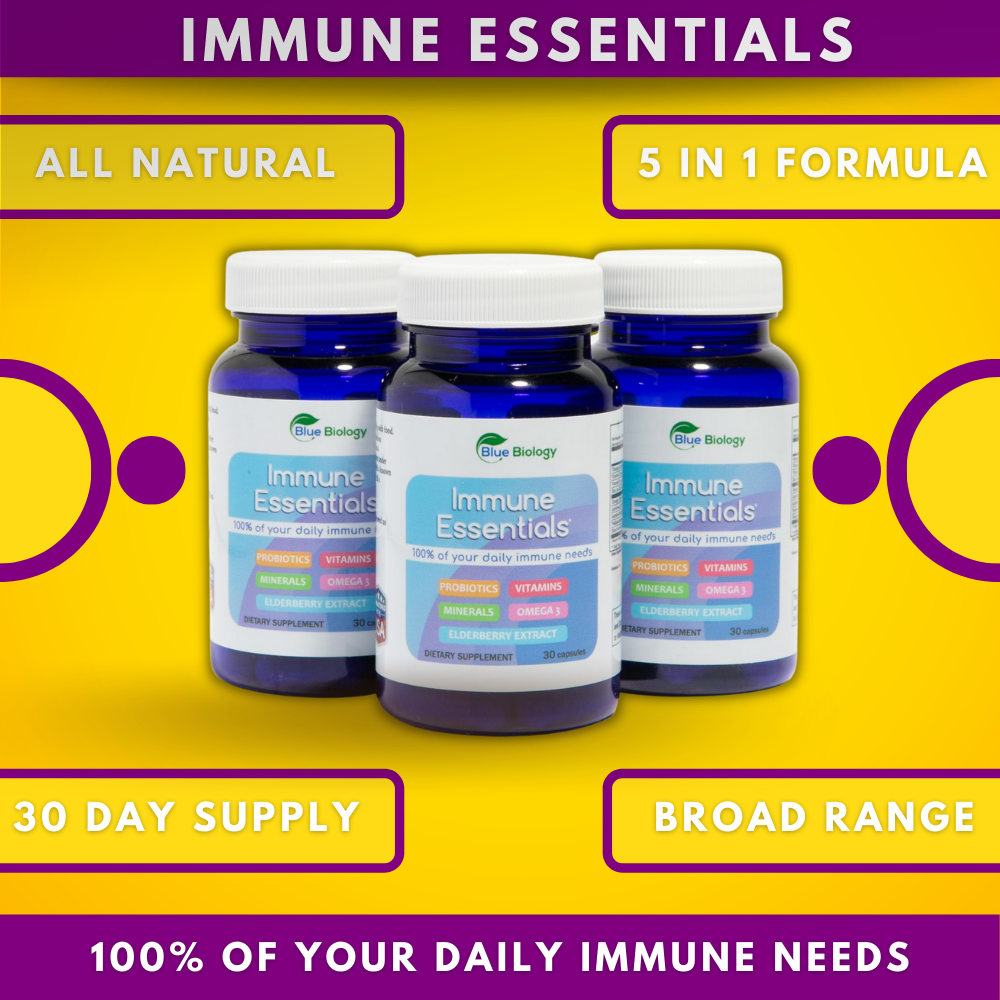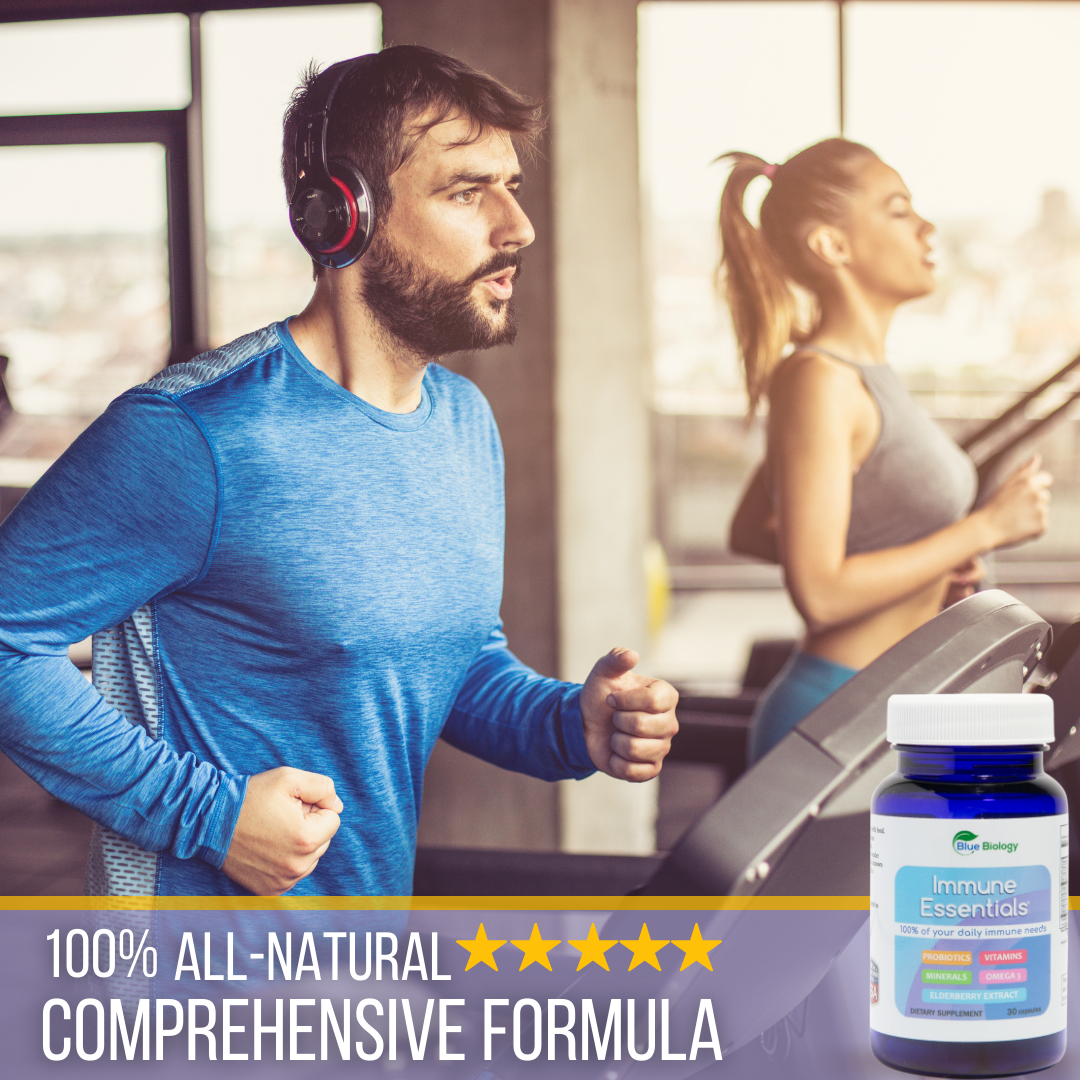 Bluebiology is engaged in ongoing research and development to ensure that their products provide maximum benefits, and they stand by the exceptional quality of their items. With a mission to create health products of the highest quality, it's no wonder why consumers trust Bluebiology.

Created using natural and organic ingredients, Bluebiology's Immune Essentials help to maintain strong immune health, and their products are carefully sourced and free from synthetic compounds, fillers, and preservatives.

The Bluebiology Immune Essentials capsules have an enteric coating, which allows the capsules to safely pass through the stomach to the small intestines without breaking down, ensuring that the ingredients inside the capsules are more effectively used by the body.
Improve Your Overall Wellbeing with Complete Essentials You need Everyday
BlueBiology Immune Essentials is an advanced supplement specifically designed to support the immune system, and fight fatigue. Its proprietary blend includes vitamins, minerals and probiotics that work together to form a multi-layered shield around the body. BlueBiology takes a holistic approach to health, bringing back balance, not just treating the symptoms. Using this supplement can help your immune system be stronger. With BlueBiology Immune Essentials, it is easier to restore and maintain your overall health and well-being.